Member tags are simple labels that managers can apply to any individual member. You can use member tags to organize or filter your members and as a means for creating new member groups. An example of a common use of member tags is to refine a Broadcast recipient list. Member tags have only one level of hierarchy and cannot be edited by members.
Member tags can also be useful as a means of connecting a group of members who are not otherwise connected, such as by category, division, or targets. For example, you may want to track a group of members who enjoy hiking, and those members are not already in a similar related group. If you apply a tag named Hiking to each member you want in the Hiking member group, you can instantly create that group and then target it for specific Hiking broadcasts. Since the Hiking member group is dynamic, the group is automatically updated anytime a member has the Hiking tag applied or removed from their profile.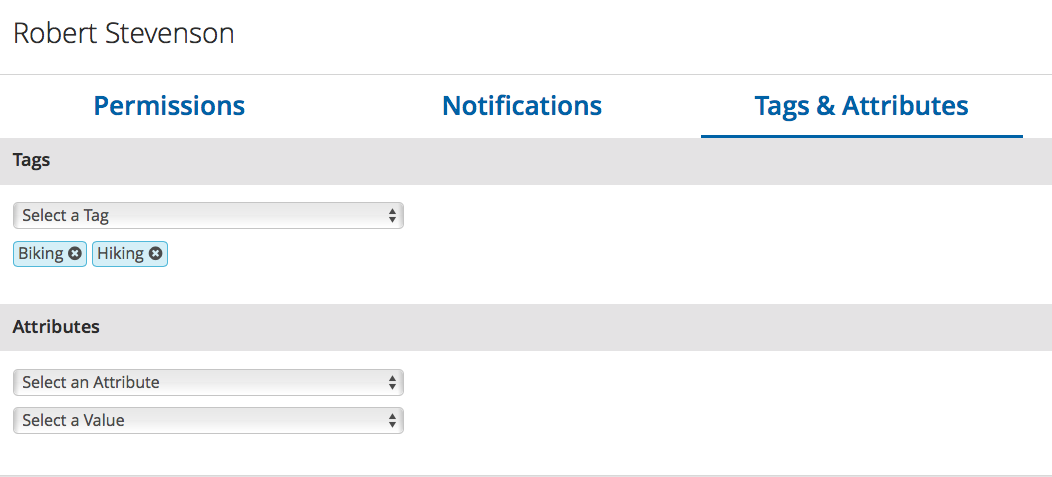 Attributes
Attributes are like tags except that they have two levels of hierarchy rather than just one. You can create a Name for an attribute (level one) and then you can define values for the attribute (level two). Though not commonly used, attributes can be helpful in some advanced tasks, such as Third Party Tracking. Please ask your CSM if you want more information about attributes.
Manage Member Tags and Attributes
To manage your member tags, see the following links: