The Customization Bar above the Member List has the following components:
Group Dropdown Menu
Filter Summary Region
Group Dropdown Menu
At the top left of the Members Page, to the right of the Filter Panel, a dropdown menu displays the five default member groups you can view and lists any Custom Groups that you have created which can also be viewed. Custom Groups are listed in alphabetical order. You can select any group from this menu and instantly view the member data associated to that group.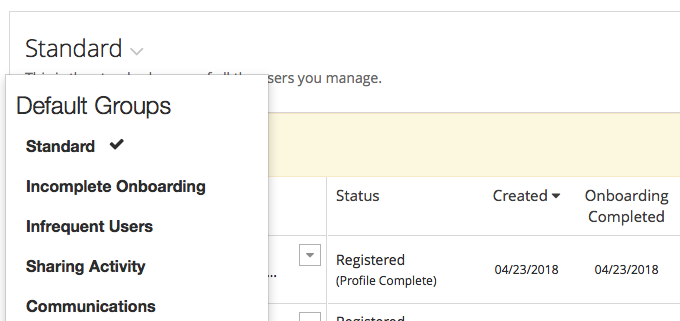 Filter Summary Region
A yellow Filter Summary region below the Name and Description displays what filters have been used to create the member data you are currently viewing. Any filter you have selected for your search will appear, and if you have applied changes to the filters, text in red will indicate Group has been modified since loading. You also can revert the group back to the original filters by clicking the Undo all Changes button. The Save to Existing Group button will save your member data to an existing group if you have permissions for that group's division. If no changes have been applied to the filters, the Save as New Group button is the only button displayed.

This region also includes buttons you can click to create, edit, and save Custom Groups. The Customize Columns button to the far right of the Customization Bar enables you to further customize your member data.