To access your Profile Settings, go to Menu > Settings in the Menu Icon dropdown. Click Profile in the Manage region of the menu on the left side of the page.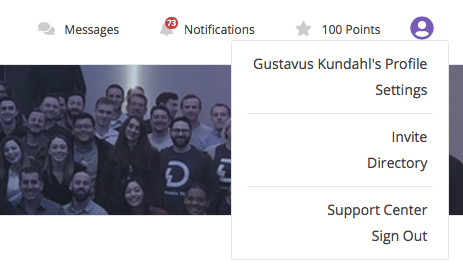 The Profile Settings page has the following sections:
Profile Photo

Name

Time Zone

Profile Questions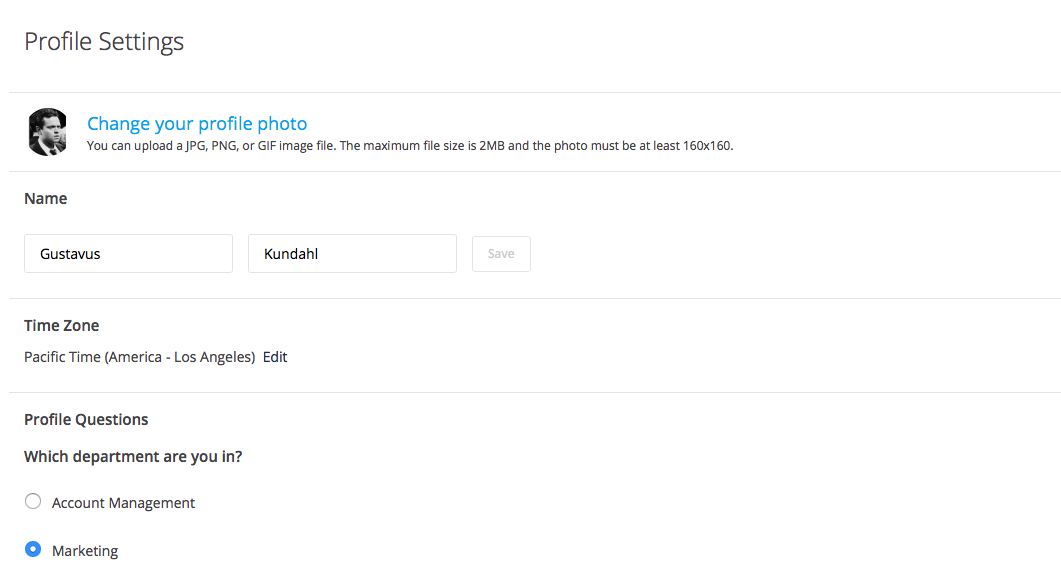 Profile Photo
Your profile photo is displayed here. Click Change your profile photo upload a new image. The file you upload can be a JPG, PNG, or GIF image. The maximum file size is 5MB, and the photo must be at least 160x160.
You can crop the photo with the included controls, drag and drop to the size of the image you would like and view a preview. When you are satisfied, click Save Image.
Name
Your can edit your registered account's first and last name here. If needed, a Global Manager can do this on behalf of a registered member or employee also. To update your account name, enter your changes in the Name fields and click Save.
Time Zone
The Time Zone region shows your current time zone. You can change your time zone by clicking Edit and selecting a time zone from the Time Zone window dropdown menu. Click Save when you are done.

Profile Questions
This section has your profile questions, such as Which department are you in? and What is your primary location?
You can change your answers by selecting the appropriate radio button. Click Save when you are done.
note
Depending on your organization's settings, there may be additional profile questions here that you can change the answers to. To make changes, click
Edit
, then click
Submit
when you're finished changing your answers. These changes may alter which content you have access to.