Content Targeting is a powerful tool that helps Managers control the content that members have access to. Managers can filter the Categories a Member can view based on their set preferences for content and other details in their profile. You can also create Custom Targets around selected criteria, organize those targets into Member Groups and then send Broadcasts to those groups tailored to their specific needs and interests. And you can target a Member Group for Surveys and other content.
Managers indicate who each post is targeted for by selecting the Target Values. Members can also set their own preferences for content targets. Language is a content target that the Dynamic Signal platform has already created for you. Other common target types include Location, Business Unit and Product Line.
Managers can create up to three custom targets, and each custom target can support up to four levels of hierarchy*. Content Targeting is essential in the use of Content Feeds, so if you have Feed content, make sure that the necessary Target Values for your Feed are set. Targets can also be applied and processed in batches in a Post list.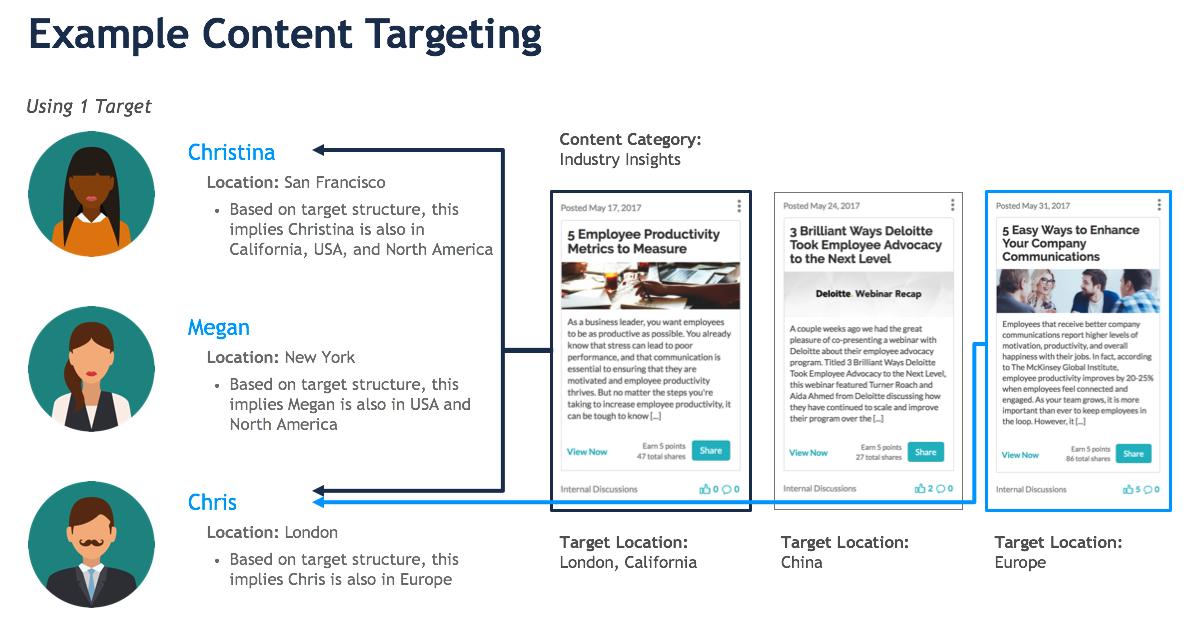 note
If you have any content that needs to be restricted, you must have a target set on that content. If no targets are set on your content, it can be viewed by anyone in your community.
* For detailed explanations and examples of hierarchies, see Content Targeting Example: Location and Custom Target Example: Position.
The best practice for using content targeting in the beginning is to keep your targets simple. Targeting functionality can get very specific and complex, so it is best to use as few targets as you need to achieve your goals. When setting up Targets, no more than 1000 target values should be applied to each Target as this can lead to performance issues in the community.
note
Content Targeting is an additional cost feature, and may not be included with your Dynamic Signal platform by default. If you're interested in Content Targeting, please contact your Customer Success Manager so they can advise you about your options.