Dynamic Signal's desktop application is an Electron application that houses all of the features available in the browser version of your Dynamic Signal community. Install the app to:
Use your Dynamic Signal community without a browser
See a count of unread notifications
Receive desktop notifications
Automatically start Dynamic Signal when you turn on your computer (optional)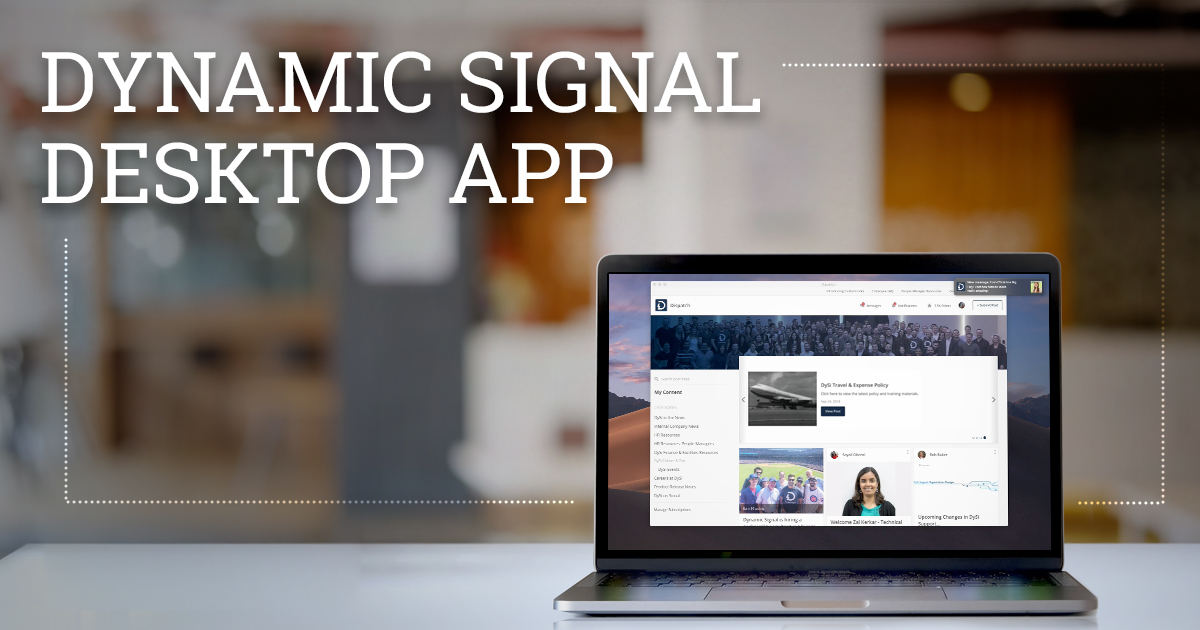 Compatible Operating Systems
Mac
MacOS 10.10+
64-bit supported only
PC
Windows 7+
Can support both 32-bit and 64-bit versions of Windows
Hardware
An Intel Pentium 4 or later processor that's SSE2 capable
512mb of RAM available
What type of ports does the desktop application use?
It communicates over the internet using 80 and 443, identical to a normal web browser.
What actions trigger desktop application notifications?
In-App Broadcast Notifications for Surveys, Newsletters, and Post Broadcasts
New Member-to-Member messages
How can the Dynamic Signal desktop app be downloaded?
A skinned desktop application is created for each Dynamic Signal community leveraging a 512x512 image asset of each customer's community icon that appears when the community is opened on a mobile device (this is also the same icon that sits in the top left-hand corner of the each Dynamic Signal community on the web).
The desktop application can either be downloaded individually by members from their community's home webpage, or it can be pre-installed on devices in partnership with a customer's IT/IS services. This pre-installation on employee devices is controlled by each customer's IT team.
When delivering files to IT, Dynamic Signal will typically share a link to a secure SharePoint folder that houses Mac and PC installation packages.
Dynamic Signal can provide unbranded Mac and PC files to IT partners for a security scan or load testing before final files are delivered.