Using Divisions, Managers can create custom content experiences for employees and target specific groups within a Division with personalized content. Managers can also assign manager permissions and responsibilities based on Division levels and role-specific manager access. Analytics and reporting on a particular segment of employees can also be enhanced by the use of Divisions.
The first step in the process of coordinating your Community is to create Divisions according to the priorities of your organization. For instance, you may want to create divisions based on geographical or departmental considerations. You can then invite additional managers, selecting Roles and Divisions for each. The Role you select for a manager will determine what functions the manager can perform. The Division you select will dictate which members, posts, etc. can be viewed or edited by a manager.
tip
The functionality around divisions and other Dynamic Signal features can get complex, so the best practice is to limit your number of divisions to 5 to 10.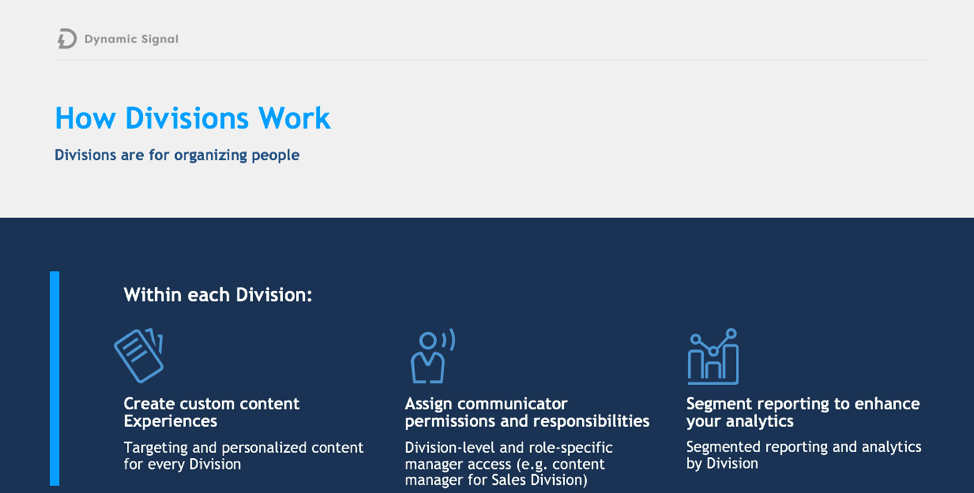 Global Divisons
While most divisions are manually configured by a Global Manager, the Global Division is a built-in parent division. Most often a Global Division is used for content, though other uses are possible as well. Posts in the Global Division can be viewed by managers in any division. Only the Global Manager can assign a Global Division, and only a Global Manager can edit any posts in the Global Division.