See the table below for a description of each of the survey fields you must complete:
Survey Title
Title of the Survey
Divisions
Survey will be restricted to users in the selected divisions
Participants
Click Refine to choose specific members or groups
Image
Uploaded images are 4:3 ratio with minimum dimensions of 480x360 pixels
Description
Describes the survey
Anonymous Responses
Makes respondent data unavailable to managers
Allow users to edit their responses
Respondents can edit their survey after completion
Creating a Survey
To create a survey, follow these steps:
From the Content tab, go to Surveys.
Click Create a Survey (top right).
Enter a Survey Title, and select the division, group, or individual you would like to send the survey to.
Upload an image, and add a brief description to let members know what the survey is about.
note
You also have options to anonymize responses, and allow users to go back and edit their responses before submitting their survey.
Select the survey start and end date, and choose the number of points members will receive upon completion (if applicable).
Select Add Question and enter your question along with the question type, rankings, and ratings. Remember there's a 255 character limit.
Question types are:
Multiple choice
Checkboxes (choose multiple answers)
Ranking (rank each answer)
Rating (rate the question from 1 to 3-10)
Net promoter score (similar to ranking, but scored like NPS)
Paragraph text (members type their answers in an answer field)
Click Create Survey.
Broadcasting your Survey
Once the survey is created, it'll be listed as "pending" in the survey page. To broadcast your survey:
Click Content > Broadcasts > Create Broadcast.
Under Compose, fill out the request info and click on the Survey attachment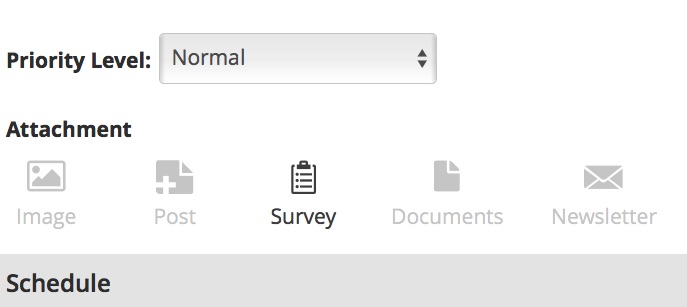 Select the survey you want broadcasted from the dropdown menu.
Schedule the broadcast. (Note that the recipients have already been selected during the creation of the Survey.)
tip
Surveys can be rebroadcast to recipients who have not yet completed them. (Only for non-anonymous response surveys)