You can automatically schedule when your posts will be shared in the Auto Queue Schedule page. Go to Menu Icon > Settings > Scheduling. Shared posts that are Auto-Queued will automatically pick the next available day/time that is set in this schedule. If the last time for a given day has already passed, it will go to the first scheduled time on the next available day.
By default, Monday thru Friday are the options are displayed, with five possible times to choose from. You can add more time options by clicking Add another time and entering the time you want available. To remove a time option, click the trash can icon.
Choose the day of the week for your post, and enter the exact time you want the post shared. The Scheduled Shares page, under Scheduling in the Shares and Schedules menu, will list each post you have scheduled to be shared and the time it will be shared.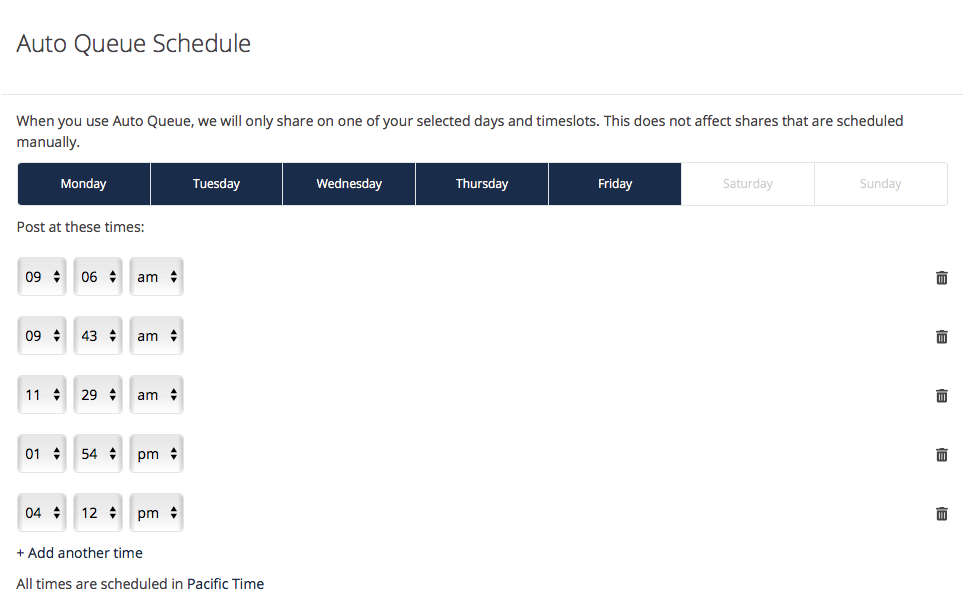 To schedule a share on a specific post, the below steps can be followed:
Click the share button
Click the drop-down arrow next to "Share this Post"
Click "Schedule Post"
Choose the specific date and time