Quick Links are Custom Links that enable you to easily link to your most-used URLs and pages. Your Quick Links appear at the top of your mobile News Feed for easy access.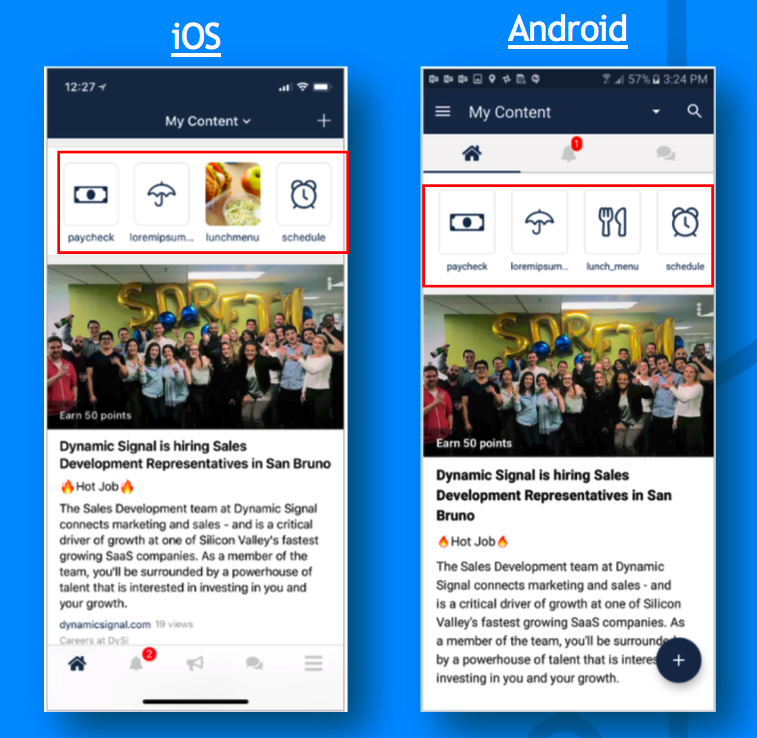 Using your Custom Page editor, you can quickly author a welcome message, add photos and video, or hyperlink to multiple URLs. Among the common customer uses for Quick Links are the following:
Direct access to employee benefit information and resources
Linking to store policy FAQs for fast answers to commonly asked questions
Welcoming employees to the mobile app with a video from the CEO or other executive leaders
Providing employees access to their paystubs via ADP or other payroll services
Listing Company holidays or other important dates on a Custom Page
Giving employees a quick and easy way to request time off via a PTO request link
Create a Quick Link
You can create a Quick Link by following the Custom Link instructions, keeping in mind the following Quick Link-specific requirements:
The Name entered for your link must be a maximum of 12 characters
In the Location region, select the Quick Link checkbox
In the Quick Link Icon region, upload an image for your link (The recommendations for your image are a size of at least 256x256 pixels in a .png, .gif, or .jpg. The image you upload will automatically be cropped to a square.)
note
If your platform has more than five Quick Links, the first five will be displayed, along with a "more" link that can be clicked to display the rest. There is a limit of 100 total Quick Links.