The following additional settings can be made after you set up your categories. Be sure to consult your CSM before using these settings.
Landing Page
Once you have organized your content into Categories, you can configure the Landing Page settings to make Member Subscriptions the default view when they visit the platform. You also have the option to default to another view, such as a Company News category, for example.
To change Landing Page settings, go to Content Categories and click Edit in the Landing Page region. Select your Default Category from the dropdown menu and select either the Visible or Hidden check box for User Subscriptions.
The best and most common Default Category is User Subscriptions, which is the setting your members will expect.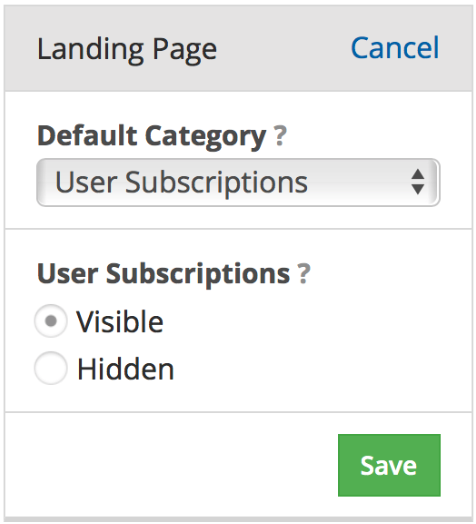 Content Digests
You can set up a Category for Content Digests to filter the content sent directly to Members in those emails. To set up Content Digests, go to Admin > Community Settings > Notification Settings and select the time the content will be sent and the Category to be used.

Allow Members to Select Post Categories
You can allow Members to select a Category when they submit a post, by going to Admin > Advanced > Post Defaults and selecting the Required or Optional check box for Allow Users to Select Categories in the User Submitted Post region.