To access Registration Settings, click Admin > Registration > Registration Settings.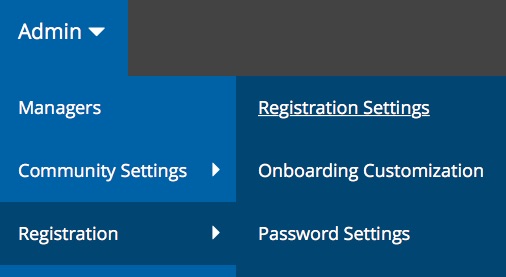 There are two settings for registration:
Public sign-up

anyone can register in your Community

Preregistration only

Members can sign themselves up only if their email address/email domain is allowlisted in the Community. Removing the allowlisting would require it to be invite only or Manager approval would be needed.
Your Community is configured to Preregistration Only by default. The main email domain for your company is already allowlisted.
note
Public sign up isn't recommended for programs aimed at a limited audience.
Registration Options
There are three privileges for members and one option under Registration Options:
Grant Authorship Privilege

members can submit content by default

Grant Sharing Privilege

members can share by default

Grant Commenting Privilege

members can take part in internal discussions (likes and comments) by default

Hide the Connect Channels

members skip the Connect Channels step during on boarding
Authorship, Sharing, and Commenting are all allowed by default. You can change these settings at any time, before or during invitation send-outs. These settings don't affect members that are already added.
note
Hide the Connect Channels will require members to manually connect these channels before they can share content. The main use for this option is an internal communications program in which most/all posts aren't shareable.
Points

You can set a Starting Points award for programs that will use points as a currency, or to give new members a competitive chance on the leaderboards or in a points-based contest. These points are granted when a member's registration is finished. Points are set to zero by default.
In order to prevent registration spamming, you can enable the captcha threshold, so that repeated signups coming from the same IP address. This is set to zero by default.