Importing: Content Tab
In the Content tab, verify/edit the imported Post Title.

note
You can add a Subtitle for added context. It will be displayed just below the Title.
Edit the Body text (if applicable, see Note below).

note
Body text only applies to
In Application
posts. In Application posts are for sites that don't have direct permalinks to the page you'd like to share. Selecting In Application on the
Settings
tab (see below) will pull the body text from the web page into the platform (i.e. "in-application"). In these cases, the Body text may be edited here. Body text is not displayed for regular,
Out of Application
posts. Most every post you import should be Out of Application.
Verify/edit the imported Description.

Import a Video Link (if applicable).

note
If you don't have the Native Video feature enabled for your platform, you will only be able to import YouTube video links.
Attach a Document (if applicable).

note
If the source article contains an image, it will be uploaded automatically. Feel free to remove and/or upload additional images. Images uploaded to the platform must be 5MB or less.
tip
Images that are 640x420 pixels or greater provide the best user experience across desktop, mobile, and tablet.
Importing: Settings Tab
Fill out a Note to Members that will display directly under the Title.

Show or hide Internal Discussions, which allows members to comment or like a post on the platform.

Choose In or Out of Application Display Mode. Out of Application redirects users to the original link when clicked. In Application redirects users to the platform.

Hide or show the post creator's name and photo, which would display in the main feed Post Title.

Add Divisions to restrict the managers who can view or edit this post in the manager application (if enabled in your platform).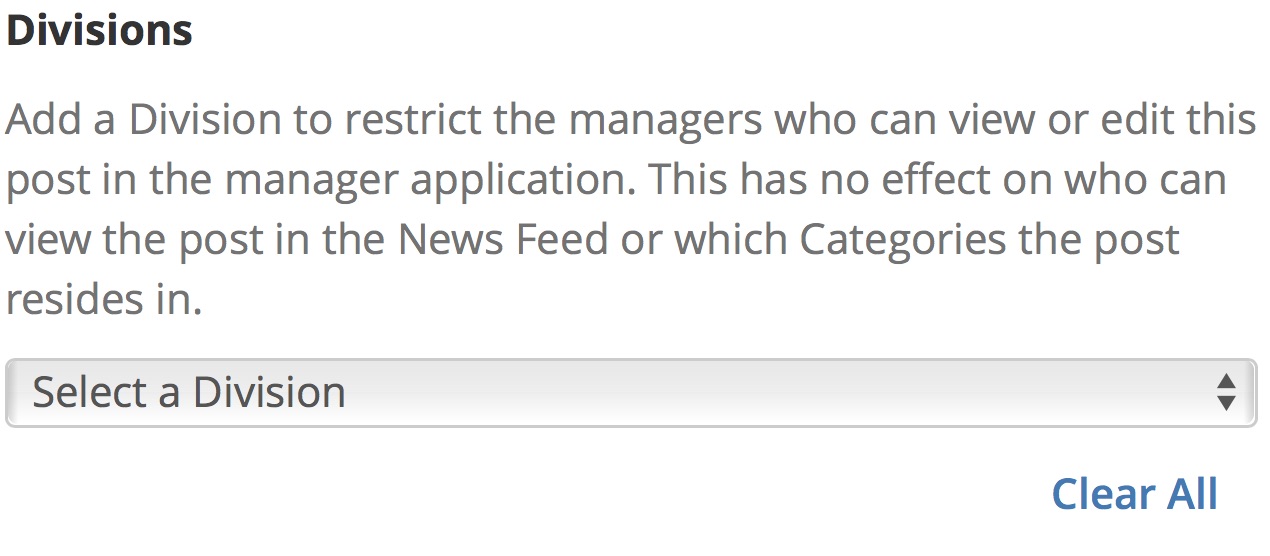 Add Post Categories, Tags, and select a Custom Target (such as Industry Target, if Custom Targeting is enabled in your platform).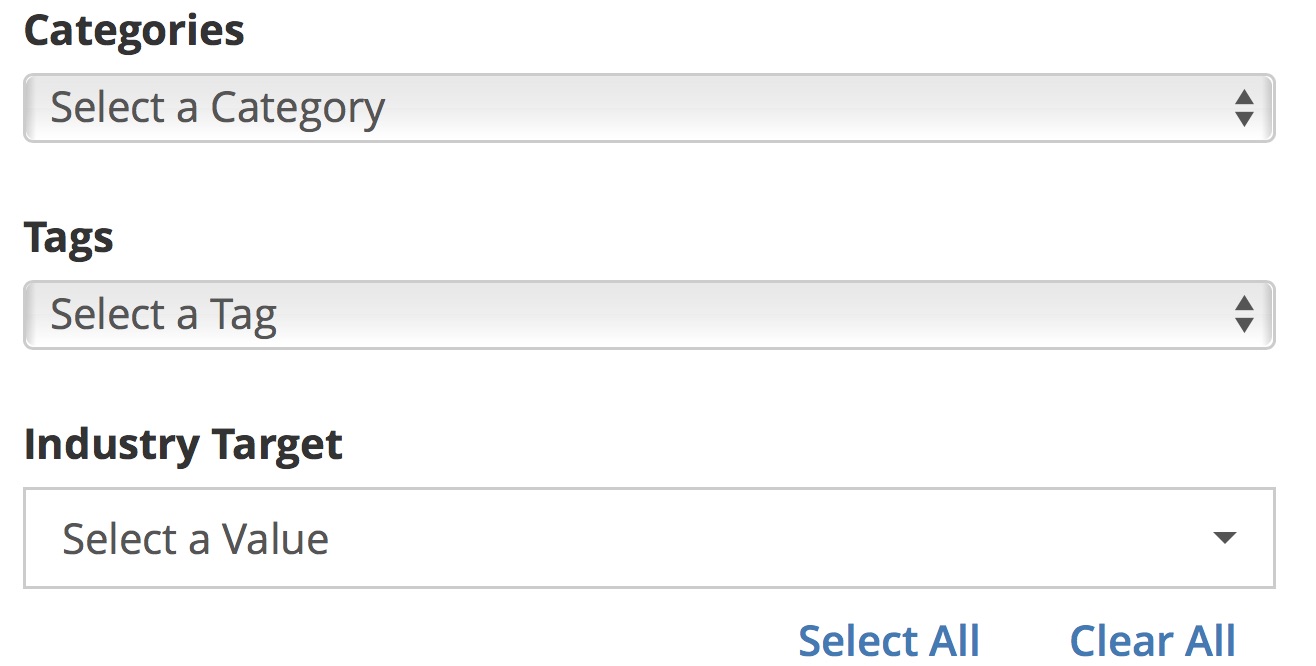 Importing: Sharing and Publishing Tabs
Select whether or not the Post is shareable.
note
By default, Posts are
not
shareable, and are only available to your internal Members. If you want your Post to be shared externally, select the above option, which will make the post sharable and allow Members to earn points. It is strongly recommended that you do not make any In Application posts shareable.
Customize how many points are earned for your members each time they share, click on, or react to the Post (if applicable).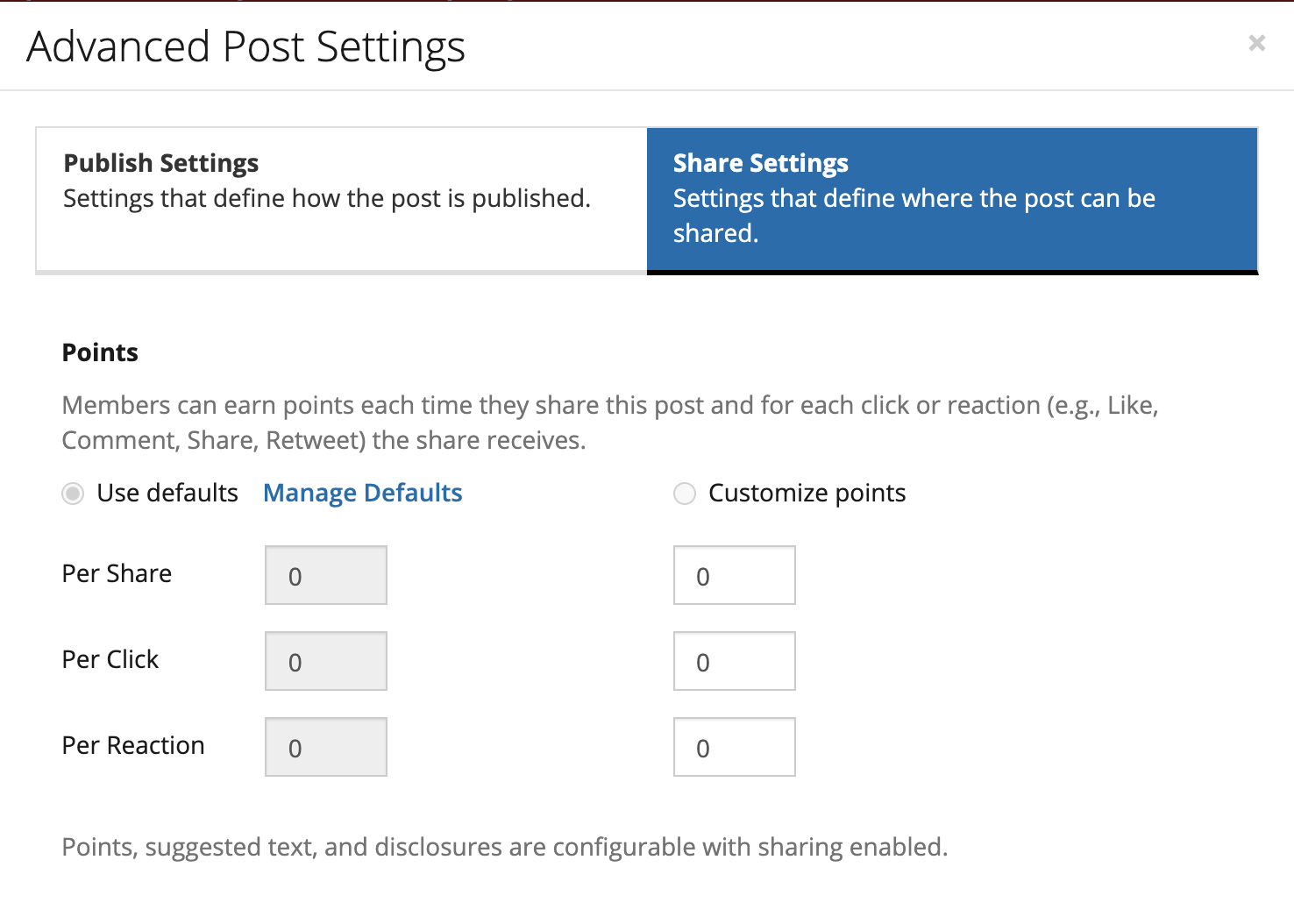 note
Points can only be earned on shareable Posts.
Customize the Suggested Share Text, Hashtags and Mentions (Twitter only), and the Sharing Disclosure appended to the end of member's share for this Post (if applicable).

note
Click
Add Another
if you'd like to add another suggested share text field for your Post.
Go to the Publishing tab, and select a Publish Date for your Post (past, present, or future).
Select an Expiration Date for your Post (if applicable).